Market Trends Review
Despite the economic downturn caused by COVID-19, the industrial sector has been the most resilient real estate product. The industrial sector has been able to quickly adjust to economic conditions due to the growing increase of e-commerce and adaptable last mile demand. Year-over-year e-commerce growth recorded a 39.1% increase in Q1 2021. This steep increase in demand has put pressure on retailers, wholesalers, and third-party logistics (3PLs) to reach consumers in a tightened time-frame while keeping transportation & other corresponding overhead costs down. As demand for quality industrial space continues to be driven by e-commerce, cap rates are expected to continue to compress in the coming quarters.
Manufacturers Industry
Focus on agility and supply chain resilience.
Aerospace and Defense Industry
The defense sector is expected to remain stable through the end of 2021, however due to global supply chain disruptions, some defense programs could face cost increases and schedule delays.
Oil & Gas Industry
Oil demand is expected to recover strongly in 2021 but remain lower than it was at pre-COVID-19 levels. Industry revenue is not anticipated to reach 2019 levels until 2026, expecting slowed growth due to an increased focus toward alternative energy.
Engineering & Construction
Adapting to the ongoing impacts of Covid-19 by digital transformation and an overall adjustment in cost efficiency following extreme growth in price of lumber and steel.
Industrial Sector
Boston, San Diego, and the San Francisco Bay are the target markets for Lab/R&D market fundamentals as biotechnology continues to be the driving force.
Landlords
Seeking to decrease management responsibilities across the board, cap rates are expected to remain relatively steady as growing net leased product comes online in the coming months.
2021 Economic Review & Forecast
COVID-19 Vaccination  |  315 million (52%) people in the U.S. have received their first dose
Startups are Growing  |  500,200 New Business Applications in May 2021 (up 69.7% YOY)
Liquid Deposits  |  Increased by 3.2% since December 2020
10-Year Treasury Note  |  Expected to rise to near 2.2% in 2021, up from the current rate of 1.57%*
Inflation  |  Expected to rise 3.4% in 2021, up from 1.7% in 2020*
GDP  |  Expected to grow 6.6% in 2021, up from -5.8% growth in 2020*
*Source: Kiplinger Forecast & Reuters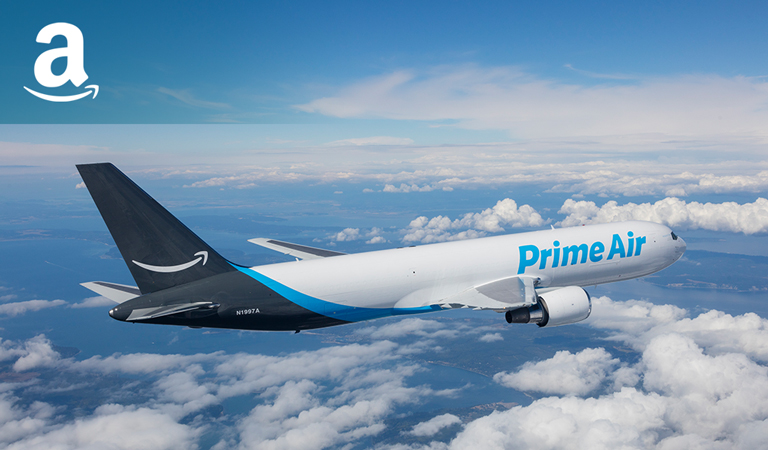 Amazon cargo plane fleet; purchased 11 planes in Jan 2021; 200+ planes within the next decade
Amazon operating cash flow increased 69% to $67.2 billion trailing twelve months (TTM) ending March 2021, compared with $39.7 billion TTM ending March 21, 2020
Second HQ under construction in Arlington, VA costing $2.5 billion with plans to hire 1,900 new employees
industrial single-tenant nnn sales volume & cap rate
Industrial Inventory
As the economy recovers and e-commerce continues to grow, industrial real estate surrounding airports and port logistics will be the most attractive industrial inventory. Warehouse areas around established hubs such as Memphis, TN; Louisville, KY; Chicago, IL; Miami, FL; and growing hubs such as Phoenix, AZ; Portland, OR; and Houston, TX are becoming increasingly attractive because of the slower-than-normal movement of containers facing the Los Angeles and Long Beach, CA ports, which have historically been two of the busiest ports in the country.
NATIONAL INDUSTRIAL EMPLOYMENT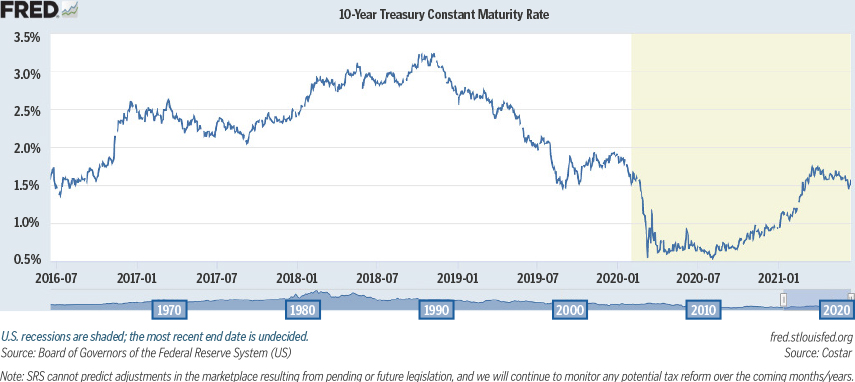 NUMBER OF NATIONAL INDUSTRIAL INVESTMENT SALES

Average Summary Report – Cap Rates by Industry Sector
For this report, SRS reviewed Q2 2021 sales reported by Costar for the following sectors: Distribution, Food Processing/Cold Storage, Manufacturing and Warehouse. In Q2, it's especially important to understand the impact of the ongoing pandemic has had on the relationship between length of lease term and capitalization rates across all product types, as well as how the pandemic has affected buyer bias toward certain sectors. To do so, we compiled the following average summary reports for several data points throughout each mentioned sector. *Note: this report captures data only for transactions which have reported a sale price and capitalization rate. The following data has been collected from sources deemed reliable; it may not include confidential and/or proprietary information of the marketplace.
DISTRIBUTION
Given current economic conditions, distribution centers have been deemed as an essential industrial sector. As we move into the second half of 2021, we will see greater demand in sales activity for distribution centers as consumers drive activity through e-commerce sales. Future technology will continue to impact distribution centers as businesses continue to improve delivery efficiencies with the help of technological advancement. During Q2, two single tenant distribution transactions took place with the largest being Rite-Aid's distribution portfolio facility located in Lancaster and Woodland, California. Q2 cap rates recorded at 4.55% while price per square foot increased to $136.
Food Processing/Cold Storage
Improving economic conditions will likely enable consumers to purchase a greater variety of food products from grocery retail channels giving refrigerated storage and food processing companies a boost from demand. In addition, growing demand for pharmaceutical goods from outbound countries will likely cause US pharmaceutical companies to rely on refrigerated storage facilities to store their goods before they are exported. Product in this sector is limited, which results in a wider variable range per quarter. There were no closings in this sector during Q2, and only one transaction in Q1 with a recorded cap rate of 7.27%. Cap rates recorded in the 6% range in the two previous quarters.
Manufacturing
In Deloitte's 2021 manufacturing industry outlook report, they project manufacturing GDP to grow 3.5% in 2021 in comparison to -6.3% for 2020. 2020 did experience a significant dip in manufacturing employment levels due to forced shutdowns and suppressed orders due to COVID-19. As of June 2021, year-over-year manufacturing jobs increased by 2.6% and are expected to continue to grow into 2022. Cap rates for manufacturing product compressed by 76 bps from Q1, closing out Q2 at 6.48%. This product type is expected to see sale prices fall back to historical price ranges in the coming quarters.
Warehouse
As e-commerce continues to grow and evolve, the warehouse market will shift with demand. Rapid advances in technology and rising customer expectations is transforming warehouses from a physical primarily serving infrastructure as long-term storage facilities to order fulfillment centers. With Amazon leading this sector, this trend will strengthen and grow as e-commerce and 3PL companies evolve their business models. Cap rates for warehouse product have held steady in the 6.5% range over the past two quarters.