Market Trends Review
As the medical industry continues to grow and evolve due to the COVID-19 pandemic, medical office product has become a target asset class by both private and institutional investors. The changing environment of the medical industry has placed strain on workforce, infrastructure, and supply chain foundations. Historically, investment grade medical product such as hospitals have typically generated low cap rates due to demand from both private and 1031 exchange investors. However, as new medical brands and business platforms have emerged, private investors are seeing new opportunities in the medical industry. Opportunities are being seen with non-investment grade urgent care groups, specialized medical centers and emergency care facilities that produce higher yields.
Healthcare Trends Expected in 2022


Consumerization – As major retailers continue to gain a foothold in the healthcare industry, consumers will have more convenient healthcare options available. CVS, Walgreens and other retail pharmacy companies are turning primary care into a one-stop shop. Virtual healthcare is also a growing option which provides consumers quick access to healthcare needs. This increased consumerization on both the retail and virtual healthcare sides improve patient access to healthcare needs especially for those who live in rural areas.
Automation – Due to the significant staffing shortage the healthcare industry, the use of automation has grown so that patients can continue to receive the care they need. Digital assistants and apps are guiding patients through early stages of the care process. Automation saves time for both healthcare staff and patients.
Consolidation – Many hospitals are considering strategic merger opportunities due to strong margin pressure and increasing competition. Large organizations can mobilize resources to support investing into consumerization, digital transformation and automation.
Concentration of Primary Care Doctors in the United States
medical office single-tenant NNN sales volume & cap rates
2022 Economic Review & Forecast
COVID 19 Vaccination  |  202.4 million people in the U.S. are fully vaccinated.
Urgent Care Centers  |  Revenue is forecasted to grow at an annualized rate of 5.9% to $51.3 billion over the next five years to 2026.
2021 Population  |  65+ Years is 16.6% and expected to increase to 18.7% in 2025.
Primary Care Physicians  |  The shortage in the United States is expected to drive patients towards urgent cares over the next five years.
Rising Healthcare Costs  |  Continued efforts from the ongoing challenges of Covid-19 and overwhelming demand from the aging population.
10-year Treasury Note  |  Expected to rise to 2.1% in 2022, up from the current rate of 1.52%
Source: Russel Investments & IBIS
national industry employment
number of national mob investment sales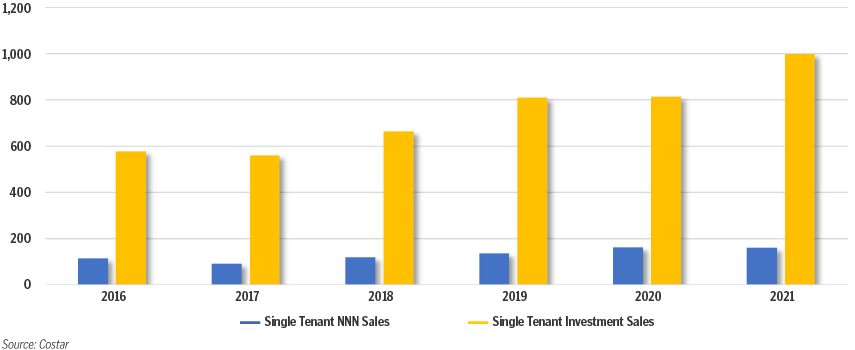 Average Summary Report – Cap Rates by Industry Sector
For this report, SRS reviewed Q4 2021 sales reported by Costar for the following sectors: dialysis, urgent care, general doctor and other medical (physical therapy, treatment centers, spinal care, and radiology). In Q4, it is especially important to understand the economic impact of the ongoing pandemic and current economic conditions has had on the relationship between length of lease term and capitalization rates across all product types. To do so, we compiled the following average summary reports for several data points throughout each mentioned sector.
Note: this report captures data only for transactions which have reported a sale price and capitalization rate. The following data has been collected from sources deemed reliable; it may not include confidential and/or proprietary information of the marketplace.
Dialysis
The pandemic has had minimal effect on revenue for the Dialysis Centers industry. The number of industry establishments is forecasted to increase at an annual rate of 3.1% to approximately 14,600 locations by the year 2025. Combined with an aging population, growing federal funding and technology investment, dialysis centers are expected to expand their patient capacities. Q4, cap rates slightly increased by 10 bps to 6.06% while the average lease term increased to 11 years in comparison to 10 years recorded one quarter ago.
Urgent Care
The urgent care industry contains approximately 10,000 locations in the United States resulting in a 20 billion plus market. Consumers are drawn to urgent cares given the broad range of healthcare services that offer walk-in visits, expanded hours including weekends, limited wait times and a lower cost alternative compared to hospitals. Given these fundamentals, the urgent care industry is expected to exhibit strong growth over the next five years. In 4Q, three deals closed in the Northeast market as cap rates increased by 10 bps to 6.08%.
General Doctor
General physician medical office is the gatekeeper of healthcare in the medical industry. Although the primary care doctor industry is overcoming the lingering challenges of COVID-19 pandemic. The average industry profit margin is anticipated to continue to grow reaching 15.1% of average revenue. Family medicine practice accounts for 38.1% of the medical industry revenue. Another underlining factor for this sector is federal funding for Medicare and Medicaid. As federal funding increases, patient medical care will also increase. Cap rates in this sector compressed by 37 bps in Q4 to 6.57%.
Dental Care
Similar to all other medical practices, the dental industry is also overcoming the lingering challenges of COVID-19 pandemic. Recovery in the dental industry is expected to be slow, the industry is expected to benefit from the rising level of consumer disposable income, aging population, a recovering rate of dental care insurance as well as employment gains. Over the next five years to 2026, revenue for the dentist industry is projected to increase at an annual rate of 3.4%. Historical cap rates in this sector show to be in the low 7%-high 6% range with cap rates recording at 6.18% in Q4.
Other Medical
Other medical sector includes physical therapy, treatment centers, spinal care, radiology, and other medical practices which do not fall under one of the other focused sectors. As this sector has a wide range or medical specialty sectors, cap rates range from high 5%-6% as geographic location can weigh in on price ranges. In Q4, average cap rates recorded at 6.73%.