To say that retail has experienced more than its fair share of game changers in the past decade would be putting it mildly. E-commerce has been the game changer dominating conversations until recently when the industry finally conceded that it was not going to be the nail in brick-and-mortar's coffin. Instead, e-commerce and social media are now recognized as essential components of a retailer's strategy. But while everyone has been focused on the digital channels themselves, a new generation of retailers, known as digitally native, has been making waves in the industry. They aren't decimating brick-and-mortar retail as the headlines might have you believe, but they are perhaps redefining it as a piece of the larger consumer experience. This can be seen today with brand and shopping experiences spanning across physical stores and digital channels. Digitally native retailers are also figuring out what traditional retailers and real estate professionals have been echoing for some time – that physical retail plays a vital role in maximizing their potential.
As we'll discuss in this article, digitally native retailers have unique characteristics and needs that must be addressed when considering real estate decisions. We'll also look at why physical locations are critical to maximizing a digitally native retailer's market share and how the right real estate partner can help seamlessly weave stores into their business model.
Different strategy. Same goal.
Ultimately, digitally native retailers and brick-and-mortar retailers both have the same end goal – the ultimate customer experience through a blend of the right channels. Digitally natives just start with a different initial strategy on how to get there. No matter the initial strategy, both physical and digital experiences are a must for today's retailers to reach their maximum potential.
What makes a retailer digitally native?
Here is what we have learned about digitally native brands. First and foremost, they, of course, start online. Some of them have a brick-and-mortar component in mind from the beginning, while others wait for location-specific customer demand to evolve. So, what other traits can be associated with digitally native retailers?
Digitally native retailer characteristic #1
They have a laser-like customer focus through data
Some have described a digitally native retailer's focus on the customer as "fearless commitment" or "maniacal." With their stores completely online, these tech-savvy brands work to customize their technology to enhance their customers' experience. And while that focus on the customer experience may be the heart and soul of a brand, the decisions that lead to great customer experiences are in large part driven by collected customer data. Since all customer interactions in the beginning are done online, these retailers can collect an inordinate amount of data, which their brand loyalists are happy to provide. More than just transactional and demographic data required for purchases, the insight collected through surveys, polls, quizzes, product reviews, and comment sections can be invaluable and help shape the path to purchase for each individual. Targeting the touches with a customer to reach them in the channels they prefer, adjusting inventory in stores based off of preview or "want it" information provided by the customer, and helping customers do their online research before they arrive in stores are all ways that data helps provide the customer with a more tailored experience. While digitally native retailers start with a leg up in this area, all smart retailers are using these data sources to design remarkable experiences for the customer, both online and offline.
Digitally native retailer characteristic #2
They sell a unique offering
Digitally native retailers often differentiate themselves by offering unique products, services, or over-the-top customer service. And sometimes they are focused on niche audiences, but can afford to thanks to the comparably low initial overhead costs associated with a digital-only "storefront" as opposed to that of a new retailer starting out with brick-and-mortar overhead. "These retailers know that for clients to really connect with their brand, they must transcend the category through superior quality, uniqueness, cool-factor, or customer service," said Mike Rielly, senior vice president and managing principal, and leader of SRS' Signature Group – a service offering that caters to aspirational retailers, like so many of the digitally native brands. "If they cannot compete on those characteristics, they have to win with price, which leaves them vulnerable to the likes of Amazon."
Digitally native retailer characteristic #3
They embrace social media and technology
Social media is probably the biggest factor that allows digitally native retailers to take off at such a brisk pace. The ability to target their customer base through social media advertising allows brands to bring their stories directly to qualified potential customers.

The highly successful digitally native brand Glossier piqued the interest of the loyal readership of Emily Weiss' lifestyle blog, Into the Gloss. Fans knew that the products would be in line with the quality and authenticity they had learned to expect from the blog and accompanying social media presence. So, when Glossier unveiled their brand, they leaned hard into the Instagram platform, essentially launching their products there and on their e-commerce site. They were also fortunate to be the only beauty brand included in Instagram's beta test of their shopping feature, allowing customers to tap on an image for prices, and then go directly to a landing page where they can purchase the product.

Brands such as Glossier encourage interaction with their own social content which helps to create a community around the brand and opens the door to yet another communication channel where they can provide customer service in a place they already frequent. Emily Weiss has said it is the feedback and direction solicited from her fanbase that helps her develop the products. Beyond communication, legions of digitally native retailers leverage platforms such as Facebook, Instagram, Twitter, YouTube, and Snapchat to transact right through their platform, sometimes even eliminating the initial need to build out their own online storefront.
Why digitally native retailers need a physical store strategy to achieve the ultimate customer experience
Digitally native retailers like to take things into their own hands. Often, the choice to launch a product online is deliberate, allowing the brand to sell direct-to-consumer and essentially bypass the "middleman" of selling the product within another store. The online-only model certainly has advantages, producing low overhead from the lack of store operational costs, and a nimbleness that is not always afforded to a larger retailer. It can work for many brands, but the purely online model has its limits.
Why digitally native retailers need physical stores – reason #1
Brick-and-mortar stores are often more convenient than online and drive emotional brand connections
Brick-and-mortar retail offers a critical piece to a convenient shopping experience. How many times have you had to run to the store for that last ingredient in a recipe? Ever realize you needed a hostess gift on the way to a dinner party? Physical stores continue to be a necessity for shoppers who need something immediately and cannot wait, even a day or two, for something to be delivered. And those trips to the store have been made even more convenient with many offering online ordering, in-store or curbside pickup, and the ever-valuable in-store returns for online purchases.
Physical locations provide a tangible way to interact with the brand, while also making a definitive statement to the customer base that the brand has "arrived." Advancements in phone cameras, photo filters, and creative marketing can make anything look good online. But how does that item really look when it isn't in professional lighting or being worn by a model? Not to mention, many consumers are becoming desensitized to the online advertising campaigns that were once highly successful. And with more brands flooding the online advertising space, those costs are on the rise, so digitally native retailers are looking to new-to-them, yet traditional, ways to bring their brand to life. Seeing the physical representation of your favorite brand in person is something that can't truly be replicated online and with a well-trained associate assisting clients, it's much easier to secure the sale, whether the transaction ultimately occurs in the store or online.
The International Council of Shopping Centers released a research report last month which found that many digitally native retailers moving into physical stores use it as an opportunity to make an emotional connection with the consumer. These interactions are through knowledgeable and helpful sales staff who can help the shopper through their personalized journey. ICSC provided the example of the new M.Gemi's Hudson Yards store, where sales associates record customers' preferences on color, size, and style, so whether that shopper finishes the transaction online or in-store, their preferences help them along in the purchasing process.
Why digitally native retailers need physical stores – reason #2
Using brick-and-mortar boosts authenticity and creates personalized physical experiences
Many digital brands that target millennials know that their audience wants authenticity and there is no better way to experience that authenticity than interacting with the brand and its representatives in person. The list is lengthy, but brands like Casper, Fabletics, Indochino, UNTUCKit, Eloquii, and Warby Parker are well into the process of integrating physical retail stores into their strategies, with other brands such as Mirror, Rothy's, Outdoor Voices, and Dirty Lemon fast on their heels.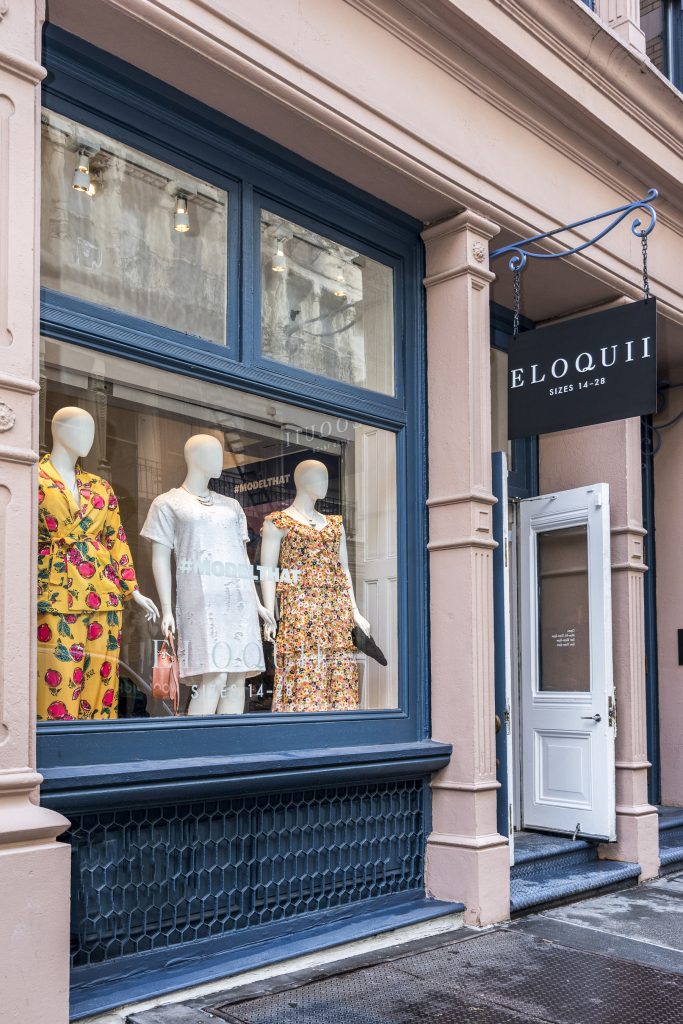 What many digitally native retailers have determined is that if they want to become a household name in today's customer-driven world, they must deliver the ultimate customer experience. That means becoming a true omnichannel retailer.
"What digitally native retailers are doing is taking all of the data they have collected on their customer behaviors and using it to shape their physical locations," said Rielly. "Some brands experiment with physical locations through pop-ups, or by partnering with another retailer to carry the line in already existing stores."
After tip-toeing in brick-and-mortar, digitally native retailers are differentiating themselves by making in-store experiences highly personalized and experiential. Bonobos, Indochino, and ModCloth have all worked with a showrooming model that allows customers to be measured for, or to try on, a product and then order the product for delivery to their home. Casper is allowing customers to schedule a time to nap on one of their mattresses. They are all leveraging customer data, loyalty, and modern technology to create a unique experience for their customer. After all, a customer doesn't see anything in terms of channels, they only see the brand. And if that brand is making it as convenient, frictionless, and memorable as possible to obtain their unique offering, that experience will stick with the customer and the retailer has a winning recipe.
Opportunities to test physical locations are more abundant than ever
Today, there are more ways than ever to successfully launch a brand. Beyond starting online, today's retailers have more options for expansion into physical retail, as landlords have become more welcoming to pop-up stores to test a market or a specific location. And of course, there are store concepts like Bulletin, Neighborhood Goods, and Re:store which allow consumers to experience a collection of typically online-only brands, while the brands themselves get to test mixing a physical presence into their business model.
Working with a real estate professional to align real estate with consumer preference data
So, what is a digitally native brand to do when they are ready to dive, or even tip-toe, into brick-and-mortar? Since digitally natives have an incredible amount of customer data, they know that analyzing this data will be a significant portion of making real estate decisions. Choosing the right location means making the store an extension of the brand, carrying the experience customers have had online through to the physical presence. But what about store size? How will planned and rumored developments affect the area? And it's one thing to know where your target audience lives with census data, but what about where they work, eat, and play? Beyond choosing the right location, digitally native retailers are faced with a steep learning curve of integrating real estate into their business model.
To avoid some of the mistakes made by retailers who chose to expand on their own, digitally native brands need a partner who can fast track this learning process and supplement their in-house abilities with experienced professionals from strategic market planning to site selection to lease negotiations and lease administration.
Real estate is challenging, but working with the right professional adds a level of certainty and can help you quickly elevate your brand's value
Recognizing the specialized needs of high-end and digitally native brands, SRS established their Signature Group in 2018 with a select group of senior real estate advisors with time-tested strategies, landlord and owner relationships, and geographic coverage that allow them to deliver landmark locations that feel authentic to the brand in crucial, yet tough-to-penetrate, markets. For online brands ready to explore opening their first physical store, working with real estate professionals such as SRS' Signature Group can not only expedite the process, but give a level of certainty to the process that can ease the fear of the unknown and set you on the path to a new level of success.
Ready to talk to SRS' Signature Group? Contact Mike Rielly.